This week we are all cold. and over this winter. and cold. So I though what better treat than warm gooey cinnamon rolls? I slightly adapted this
recipe
. They were all gone within an hour...yummm.
What you'll need:
Rolls
-2 3/4 c. flour (I used whole wheat as it was all I had)
-3 TBSP sugar
-1 tsp salt
-1 package instant yeast
-1/2 c. water
-1/4 c. milk
-2 1/2 TBSP unsalted butter
-1 egg
Filling
-4 TBSP unsalted butter (room temp)
-1/4 c. sugar
-1 1/2 TBSP cinnamon
Espresso Glaze
-1/3 package of cream cheese (room temp)
-1/2 shot of espresso
-1 c. water
-1 1/4 c. sugar
1. Mix together the 2 1/4 c. of flour, sugar, salt and yeast.
2. In double boiler, heat butter, milk and water.
3. Pour liquid into dry mixture and mix until dough consistency forms.
4. Add the rest of the flour and knead for 3-5 minutes.
5. Let sit in greased bowl for 10 min.
6. Roll dough out to 13x8in rectangle.
7. Spread butter evenly over dough and top with cinnamon and sugar.
8. Slice into 11 equal rolls and arrange in 9in greased pan.
9. Preheat oven to 200* and turn off.
10. Set rolls in warmed oven for 60-90min or until they have doubled in size.
11. Bake at 375 for 25-30 min.
12. Pour glaze over hot rolls & EAT!
For the glaze-
1. Bring water and sugar to a boil.
2. Add espresso and let boil down on med-low until desired thickness.
3. Beat cream cheese on med until slightly fluffy.
4. Add 1/3 c. of espresso syrup and mix until well incorporated.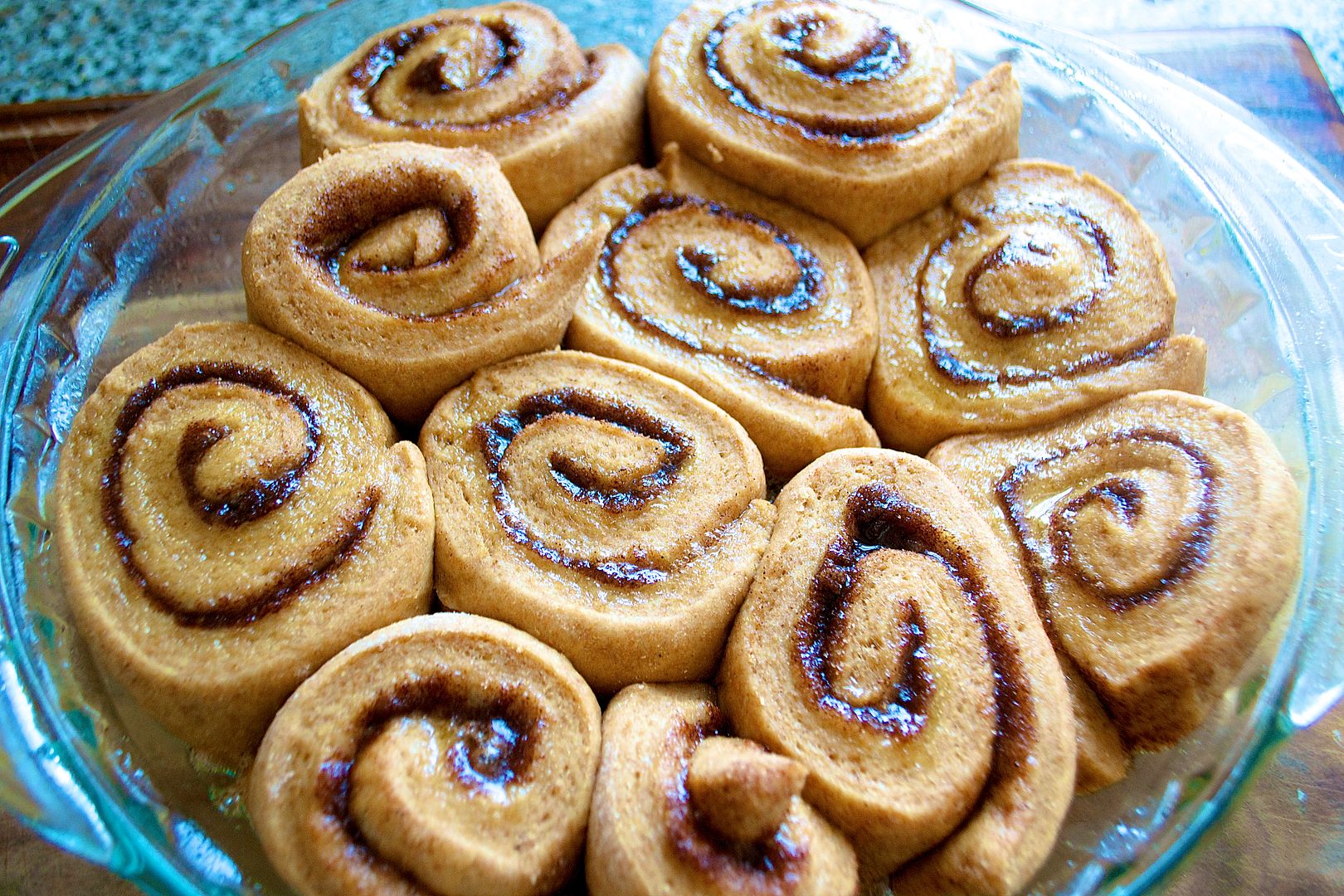 Enjoy!
xxSamantha